Patio Umbrellas
Fiberbuilt Lucaya 8' Octagon Aluminum Umbrella
FB8LPU + Prestige - Lucaya Collection by + Fiberbuilt Umbrellas
Expected to ship within 1 - 2 weeks
Special Order
Umbrella Cover
Select Umbrella Cover
Fiberbuilt 8' Umbrella Cover Expand Citronelle

Fiberbuilt 8' Umbrella Cover Expand Calypso

Fiberbuilt 8' Umbrella Cover Expand Tamale

Fiberbuilt 8' Umbrella Cover Expand Dove

Fiberbuilt 8' Umbrella Cover Scale Cloud

Fiberbuilt 8' Umbrella Cover Scale Taupe

Fiberbuilt 8' Umbrella Cover Scale Smoke

Fiberbuilt 8' Umbrella Cover Scale Indigo

Fiberbuilt 8' Umbrella Cover Abyss

Fiberbuilt 8' Umbrella Cover Mushroom

Fiberbuilt 8' Umbrella Cover Midori Indigo

Fiberbuilt 8' Umbrella Cover Midori Bermuda

Fiberbuilt 8' Umbrella Cover Artistry Indigo

Fiberbuilt 8' Umbrella Cover Array Dune

Fiberbuilt 8' Umbrella Cover Array Calypso

Fiberbuilt 8' Umbrella Cover Array Caribbean

Fiberbuilt 8' Umbrella Cover Array Dawn

Fiberbuilt 8' Umbrella Cover Resonate Dune

Fiberbuilt 8' Umbrella Cover Resonate Atlantis

Fiberbuilt 8' Umbrella Cover Resonate Citronelle

Fiberbuilt 8' Umbrella Cover Extent Sunset

Fiberbuilt 8' Umbrella Cover Extent Vintage

Fiberbuilt 8' Umbrella Cover Renew Earthen

Fiberbuilt 8' Umbrella Cover Renew Mist

Fiberbuilt 8' Umbrella Cover Create Smoke

Fiberbuilt 8' Umbrella Cover Create Haze

Fiberbuilt 8' Umbrella Cover Create Guava

Fiberbuilt 8' Umbrella Cover Create Laurel

Fiberbuilt 8' Umbrella Cover Embrace Pewter

Fiberbuilt 8' Umbrella Cover Embrace Linen

Fiberbuilt 8' Umbrella Cover Embrace Indigo

Fiberbuilt 8' Umbrella Cover Infused Gem

Fiberbuilt 8' Umbrella Cover Infused Twilight

Fiberbuilt 8' Umbrella Cover Calm Graphite

Fiberbuilt 8' Umbrella Cover Calm Laurel

Fiberbuilt 8' Umbrella Cover Blend Indigo

Fiberbuilt 8' Umbrella Cover Blend Coal

Fiberbuilt 8' Umbrella Cover Blend Mist

Fiberbuilt 8' Umbrella Cover Blend Nomad

Fiberbuilt 8' Umbrella Cover Blend Sand

Fiberbuilt 8' Umbrella Cover Blend Linen

Fiberbuilt 8' Umbrella Cover Essential Coal

Fiberbuilt 8' Umbrella Cover Depth Indigo

Fiberbuilt 8' Umbrella Cover Depth Fossil

Fiberbuilt 8' Umbrella Cover Depth Pumice

Fiberbuilt 8' Umbrella Cover Comfort Pebble

Fiberbuilt 8' Umbrella Cover Comfort Clay

Fiberbuilt 8' Umbrella Cover Heritage Ashe

Fiberbuilt 8' Umbrella Cover Heritage Granite

Fiberbuilt 8' Umbrella Cover Heritage Papyrus

Fiberbuilt 8' Umbrella Cover Heritage Char

Fiberbuilt 8' Umbrella Cover Heritage Denim

Fiberbuilt 8' Umbrella Cover Heritage Leaf

Fiberbuilt 8' Umbrella Cover Sailcloth Shore

Fiberbuilt 8' Umbrella Cover Sailcloth Sahara

Fiberbuilt 8' Umbrella Cover Sailcloth Salt

Fiberbuilt 8' Umbrella Cover Sailcloth Seagull

Fiberbuilt 8' Umbrella Cover Sailcloth Shadow

Fiberbuilt 8' Umbrella Cover Sailcloth Sailor

Fiberbuilt 8' Umbrella Cover Sailcloth Space

Fiberbuilt 8' Umbrella Cover Solana Seagull

Fiberbuilt 8' Umbrella Cover Cast Ash

Fiberbuilt 8' Umbrella Cover Cast Mist

Fiberbuilt 8' Umbrella Cover Cast Oasis

Fiberbuilt 8' Umbrella Cover Cast Shale

Fiberbuilt 8' Umbrella Cover Cast Silver

Fiberbuilt 8' Umbrella Cover Cast Slate

Fiberbuilt 8' Umbrella Cover Cast Lagoon

Fiberbuilt 8' Umbrella Cover Cast Charcoal

Fiberbuilt 8' Umbrella Cover Paradigm Stone

Fiberbuilt 8' Umbrella Cover Trusted Fog

Fiberbuilt 8' Umbrella Cover Trusted Coast

Fiberbuilt 8' Umbrella Cover Range Dune

Fiberbuilt 8' Umbrella Cover Range Smoke

Fiberbuilt 8' Umbrella Cover Surround Dusk

Fiberbuilt 8' Umbrella Cover Surround Sunrise

Fiberbuilt 8' Umbrella Cover Mainstreet Latte

Fiberbuilt 8' Umbrella Cover Hybrid Sky

Fiberbuilt 8' Umbrella Cover Hybrid Smoke

Fiberbuilt 8' Umbrella Cover Platform Indigo

Fiberbuilt 8' Umbrella Cover Platform Cloud

Fiberbuilt 8' Umbrella Cover Platform Salt

Fiberbuilt 8' Umbrella Cover Nurture White

Fiberbuilt 8' Umbrella Cover Nurture Pebble

Fiberbuilt 8' Umbrella Cover Nurture Smoke

Fiberbuilt 8' Umbrella Cover Nurture Shale

Fiberbuilt 8' Umbrella Cover Nurture Driftwood

Fiberbuilt 8' Umbrella Cover Nurture Charcoal

Fiberbuilt 8' Umbrella Cover Nurture Laurel

Fiberbuilt 8' Umbrella Cover Action Linen

Fiberbuilt 8' Umbrella Cover Action Ash

Fiberbuilt 8' Umbrella Cover Action Stone

Fiberbuilt 8' Umbrella Cover Action Taupe

Fiberbuilt 8' Umbrella Cover Action Denim

Fiberbuilt 8' Umbrella Cover Level Sunset

Fiberbuilt 8' Umbrella Cover Level Atlantis

Fiberbuilt 8' Umbrella Cover Level Pumice

Fiberbuilt 8' Umbrella Cover Cabaret Blue Haze

Fiberbuilt 8' Umbrella Cover Blox Slate

Fiberbuilt 8' Umbrella Cover Luxe Indigo

Fiberbuilt 8' Umbrella Cover Elegance Marble

Fiberbuilt 8' Umbrella Cover Violetta Baltic

Fiberbuilt 8' Umbrella Cover Empire Dove

Fiberbuilt 8' Umbrella Cover Fischer Lagoon

Fiberbuilt 8' Umbrella Cover Accord Jade

Fiberbuilt 8' Umbrella Cover Accord II Crimson

Fiberbuilt 8' Umbrella Cover Fretwork Mist

Fiberbuilt 8' Umbrella Cover Fretwork Flax

Fiberbuilt 8' Umbrella Cover Fretwork Pewter

Fiberbuilt 8' Umbrella Cover Erin Green - Marine Grade

Fiberbuilt 8' Umbrella Cover Pacifc Blue - Marine Grade

Fiberbuilt 8' Umbrella Cover Sunfower Yellow - Marine Grade

Fiberbuilt 8' Umbrella Cover Jockey Red - Marine Grade

Fiberbuilt 8' Umbrella Cover Natural - Marine Grade

Fiberbuilt 8' Umbrella Cover Hemlock Tweed - Marine Grade

Fiberbuilt 8' Umbrella Cover Dubonnet Tweed - Marine Grade

Fiberbuilt 8' Umbrella Cover Charcoal Tweed - Marine Grade

Fiberbuilt 8' Umbrella Cover Jet Black - Marine Grade

Fiberbuilt 8' Umbrella Cover Turquoise - Marine Grade

Fiberbuilt 8' Umbrella Cover Aruba - Marine Grade

Fiberbuilt 8' Umbrella Cover Smoke - Marine Grade

Fiberbuilt 8' Umbrella Cover Mocha - Marine Grade

Fiberbuilt 8' Umbrella Cover Royal Blue - Marine Grade

Fiberbuilt 8' Umbrella Cover Walnut Tweed - Marine Grade

Fiberbuilt 8' Umbrella Cover Beige - Marine Grade

Fiberbuilt 8' Umbrella Cover True Brown - Marine Grade

Fiberbuilt 8' Umbrella Cover Terracotta - Marine Grade

Fiberbuilt 8' Umbrella Cover Sky Blue - Marine Grade

Fiberbuilt 8' Umbrella Cover Navy - Marine Grade

Fiberbuilt 8' Umbrella Cover Toast - Marine Grade

Fiberbuilt 8' Umbrella Cover Cadet Grey - Marine Grade

Fiberbuilt 8' Umbrella Cover Burgundy - Marine Grade

Fiberbuilt 8' Umbrella Cover Ivy

Fiberbuilt 8' Umbrella Cover Linen - Marine Grade

Fiberbuilt 8' Umbrella Cover White - Marine Grade

Fiberbuilt 8' Umbrella Cover Storm - Marine Grade

Fiberbuilt 8' Umbrella Cover Forest Green - Marine Grade

Fiberbuilt 8' Umbrella Cover Sapphire Blue

Fiberbuilt 8' Umbrella Cover Oyster - Marine Grade

Fiberbuilt 8' Umbrella Cover Charcoal Grey - Marine Grade

Fiberbuilt 8' Umbrella Cover Captain Navy - Marine Grade

Fiberbuilt 8' Umbrella Cover Taupe - Marine Grade

Fiberbuilt 8' Umbrella Cover Silver - Marine Grade

Fiberbuilt 8' Umbrella Cover Mediterranean Blue - Marine Grade

Fiberbuilt 8' Umbrella Cover Mediterranean Tweed - Marine Grade

Fiberbuilt 8' Umbrella Cover Linen Tweed - Marine Grade

Fiberbuilt 8' Umbrella Cover Crest Birch - Marine Grade

Fiberbuilt 8' Umbrella Cover Crest Ash - Marine Grade

Fiberbuilt 8' Umbrella Cover Sea - Marine Grade

Fiberbuilt 8' Umbrella Cover Logo Red - Marine Grade

Fiberbuilt 8' Umbrella Cover Fern - Marine Grade

Fiberbuilt 8' Umbrella Cover Heather Beige - Marine Grade

Fiberbuilt 8' Umbrella Cover Capri - Marine Grade

Fiberbuilt 8' Umbrella Cover Cocoa - Marine Grade

Fiberbuilt 8' Umbrella Cover Tuscan - Marine Grade

Fiberbuilt 8' Umbrella Cover Marine Blue - Marine Grade

Fiberbuilt 8' Umbrella Cover Ocean Blue - Marine Grade

Fiberbuilt 8' Umbrella Cover Parchment - Marine Grade

Fiberbuilt 8' Umbrella Cover Slate - Marine Grade

Fiberbuilt 8' Umbrella Cover Basil - Marine Grade

Fiberbuilt 8' Umbrella Cover Tresco Linen - Marine Grade

Fiberbuilt 8' Umbrella Cover Tresco Birch - Marine Grade

Fiberbuilt 8' Umbrella Cover Beaufort Sagebrush

Fiberbuilt 8' Umbrella Cover Hemlock Tweed Fancy - Marine Grade

Fiberbuilt 8' Umbrella Cover Beaufort Cloud

Fiberbuilt 8' Umbrella Cover Beaufort Mushroom

Fiberbuilt 8' Umbrella Cover Pacifc Blue Fancy - Marine Grade

Fiberbuilt 8' Umbrella Cover Era Ash - Marine Grade

Fiberbuilt 8' Umbrella Cover Preston Stone

Fiberbuilt 8' Umbrella Cover Beaufort Peacock

Fiberbuilt 8' Umbrella Cover Bisque Brown - Marine Grade

Fiberbuilt 8' Umbrella Cover Choc Chip Fancy - Marine Grade

Fiberbuilt 8' Umbrella Cover Grey/Beige Chip Fancy - Marine Grade

Fiberbuilt 8' Umbrella Cover Manhattan Classic - Marine Grade

Fiberbuilt 8' Umbrella Cover Forest Green Fancy - Marine Grade

Fiberbuilt 8' Umbrella Cover Burgundy/Black/White - Marine Grade

Fiberbuilt 8' Umbrella Cover Grey/Black/White - Marine Grade

Fiberbuilt 8' Umbrella Cover Spectrum Eggshell

Fiberbuilt 8' Umbrella Cover Spectrum Sand

Fiberbuilt 8' Umbrella Cover Spectrum Mist

Fiberbuilt 8' Umbrella Cover Spectrum Cilantro

Fiberbuilt 8' Umbrella Cover Spectrum Dafodil

Fiberbuilt 8' Umbrella Cover Spectrum Cayenne

Fiberbuilt 8' Umbrella Cover Spectrum Grenadine

Fiberbuilt 8' Umbrella Cover Spectrum Cofee

Fiberbuilt 8' Umbrella Cover Spectrum Graphite

Fiberbuilt 8' Umbrella Cover Spectrum Mushroom

Fiberbuilt 8' Umbrella Cover Spectrum Dove

Fiberbuilt 8' Umbrella Cover Beaufort FGrn/Natural - Marine Grade

Fiberbuilt 8' Umbrella Cover Spectrum Indigo

Fiberbuilt 8' Umbrella Cover Spectrum Peacock

Fiberbuilt 8' Umbrella Cover Spectrum Caribou

Fiberbuilt 8' Umbrella Cover Spectrum Sesame

Fiberbuilt 8' Umbrella Cover Spectrum Carbon

Fiberbuilt 8' Umbrella Cover Spectrum Denim

Fiberbuilt 8' Umbrella Cover Spectrum Aztec

Fiberbuilt 8' Umbrella Cover Cast Horizon

Fiberbuilt 8' Umbrella Cover Cast Sage

Fiberbuilt 8' Umbrella Cover Cast Teak

Fiberbuilt 8' Umbrella Cover Cast Breeze

Fiberbuilt 8' Umbrella Cover Spectrum Cherry

Fiberbuilt 8' Umbrella Cover Cast Sable

Fiberbuilt 8' Umbrella Cover Cast Ocean

Fiberbuilt 8' Umbrella Cover Cast Coral

Fiberbuilt 8' Umbrella Cover Cast Moss

Fiberbuilt 8' Umbrella Cover Cast Citrus

Fiberbuilt 8' Umbrella Cover Cast Royal

Fiberbuilt 8' Umbrella Cover Cast Pumice

Fiberbuilt 8' Umbrella Cover Eastland Redwood - Marine Grade

Fiberbuilt 8' Umbrella Cover Bliss Linen

Fiberbuilt 8' Umbrella Cover Bliss Sand

Fiberbuilt 8' Umbrella Cover Bliss Smoke

Fiberbuilt 8' Umbrella Cover Bliss Onyx

Fiberbuilt 8' Umbrella Cover Bliss Clay

Fiberbuilt 8' Umbrella Cover Bliss Guava

Fiberbuilt 8' Umbrella Cover Bliss Lemon

Fiberbuilt 8' Umbrella Cover Bliss Aspen

Fiberbuilt 8' Umbrella Cover Bliss Ink

Fiberbuilt 8' Umbrella Cover Bliss Pebble

Fiberbuilt 8' Umbrella Cover Westfeld Mushrooom - Marine Grade

Fiberbuilt 8' Umbrella Cover Colonnade Currant - Marine Grade

Fiberbuilt 8' Umbrella Cover Colonnade Stone - Marine Grade

Fiberbuilt 8' Umbrella Cover Colonnade Seaglass - Marine Grade

Fiberbuilt 8' Umbrella Cover Silica Caribbean - Marine Grade

Fiberbuilt 8' Umbrella Cover Silica Gravel - Marine Grade

Fiberbuilt 8' Umbrella Cover Cooper Ash - Marine Grade

Fiberbuilt 8' Umbrella Cover Tillman Shale - Marine Grade

Fiberbuilt 8' Umbrella Cover Colonnade Juniper - Marine Grade

Fiberbuilt 8' Umbrella Cover Colonnade Redwood - Marine Grade

Fiberbuilt 8' Umbrella Cover Silica Dune - Marine Grade

Fiberbuilt 8' Umbrella Cover Silica Sesame - Marine Grade

Fiberbuilt 8' Umbrella Cover Silica Stone - Marine Grade

Fiberbuilt 8' Umbrella Cover Silica Silver - Marine Grade

Fiberbuilt 8' Umbrella Cover Kiawah Spa - Marine Grade

Fiberbuilt 8' Umbrella Cover Manhattan Fog - Marine Grade

Fiberbuilt 8' Umbrella Cover Saxon Casade - Marine Grade

Fiberbuilt 8' Umbrella Cover Saxon Chili - Marine Grade

Fiberbuilt 8' Umbrella Cover Clinton Granite - Marine Grade

Fiberbuilt 8' Umbrella Cover Silica Sage - Marine Grade

Fiberbuilt 8' Umbrella Cover Silica Charcoal - Marine Grade

Fiberbuilt 8' Umbrella Cover Capt Navy/Natural Classic - Marine Grade

Fiberbuilt 8' Umbrella Cover Taupe 5 Bar - Marine Grade

Fiberbuilt 8' Umbrella Cover Navy/Taupe Fancy - Marine Grade

Fiberbuilt 8' Umbrella Cover Mediterranean/Canvas - Marine Grade

Fiberbuilt 8' Umbrella Cover Black Forest Fancy - Marine Grade

Fiberbuilt 8' Umbrella Cover Forest Green/Beige

Fiberbuilt 8' Umbrella Cover Taupe Tailored Bar - Marine Grade

Fiberbuilt 8' Umbrella Cover Black/Taupe Fancy - Marine Grade

Fiberbuilt 8' Umbrella Cover Forest Vintage Bar - Marine Grade

Fiberbuilt 8' Umbrella Cover Heather Beige Classic - Marine Grade

Fiberbuilt 8' Umbrella Cover Fern Classic - Marine Grade

Fiberbuilt 8' Umbrella Cover Fern/Heather Beige - Marine Grade

Fiberbuilt 8' Umbrella Cover Putty Regimental - Marine Grade

Fiberbuilt 8' Umbrella Cover Henna/Fern Vintage - Marine Grade

Fiberbuilt 8' Umbrella Cover Havelock Brick - Marine Grade

Fiberbuilt 8' Umbrella Cover Cooper Navy - Marine Grade

Fiberbuilt 8' Umbrella Cover Cooper Black - Marine Grade

Fiberbuilt 8' Umbrella Cover Hatteras Raven - Marine Grade

Fiberbuilt 8' Umbrella Cover Baycrest Sky - Marine Grade

Fiberbuilt 8' Umbrella Cover Baycrest Pacifc - Marine Grade

Fiberbuilt 8' Umbrella Cover Eastridge Cocoa - Marine Grade

Fiberbuilt 8' Umbrella Cover Ashford Forest - Marine Grade

Fiberbuilt 8' Umbrella Cover Pacifc Blue

Fiberbuilt 8' Umbrella Cover Rust

Fiberbuilt 8' Umbrella Cover Gingko

Fiberbuilt 8' Umbrella Cover Granite

Fiberbuilt 8' Umbrella Cover Jockey Red

Fiberbuilt 8' Umbrella Cover Natural

Fiberbuilt 8' Umbrella Cover Charcoal

Fiberbuilt 8' Umbrella Cover Parrot

Fiberbuilt 8' Umbrella Cover Tangerine

Fiberbuilt 8' Umbrella Cover Henna

Fiberbuilt 8' Umbrella Cover Black

Fiberbuilt 8' Umbrella Cover Brick

Fiberbuilt 8' Umbrella Cover Air Blue

Fiberbuilt 8' Umbrella Cover Spa

Fiberbuilt 8' Umbrella Cover Wheat

Fiberbuilt 8' Umbrella Cover Melon

Fiberbuilt 8' Umbrella Cover Aruba

Fiberbuilt 8' Umbrella Cover Tuscan

Fiberbuilt 8' Umbrella Cover Mineral Blue

Fiberbuilt 8' Umbrella Cover Antique Beige

Fiberbuilt 8' Umbrella Cover Sky Blue

Fiberbuilt 8' Umbrella Cover Cocoa

Fiberbuilt 8' Umbrella Cover Capri

Fiberbuilt 8' Umbrella Cover Glacier

Fiberbuilt 8' Umbrella Cover Macaw

Fiberbuilt 8' Umbrella Cover Bay Brown

Fiberbuilt 8' Umbrella Cover Burgundy

Fiberbuilt 8' Umbrella Cover Buttercup

Fiberbuilt 8' Umbrella Cover Navy

Fiberbuilt 8' Umbrella Cover Terracotta

Fiberbuilt 8' Umbrella Cover Forest Green

Fiberbuilt 8' Umbrella Cover Sapphire Blue

Fiberbuilt 8' Umbrella Cover Canvas

Fiberbuilt 8' Umbrella Cover Teal

Fiberbuilt 8' Umbrella Cover Sunfower Yellow

Fiberbuilt 8' Umbrella Cover Taupe

Fiberbuilt 8' Umbrella Cover Hot Pink

Fiberbuilt 8' Umbrella Cover Camel

Fiberbuilt 8' Umbrella Cover Raven Black

Fiberbuilt 8' Umbrella Cover Birds Eye

Fiberbuilt 8' Umbrella Cover Heather Beige

Fiberbuilt 8' Umbrella Cover Logo Red

Fiberbuilt 8' Umbrella Cover Brass

Fiberbuilt 8' Umbrella Cover Fern

Fiberbuilt 8' Umbrella Cover Teak

Fiberbuilt 8' Umbrella Cover Coal

Fiberbuilt 8' Umbrella Cover Flax

Fiberbuilt 8' Umbrella Cover Regatta

Fiberbuilt 8' Umbrella Cover Vellum

Fiberbuilt 8' Umbrella Cover True Blue

Fiberbuilt 8' Umbrella Cover Dolce Mango

Fiberbuilt 8' Umbrella Cover Dolce Oasis

Fiberbuilt 8' Umbrella Cover Bravada Salsa

Fiberbuilt 8' Umbrella Cover Bravada Limelite

Fiberbuilt 8' Umbrella Cover Harwood Crimson

Fiberbuilt 8' Umbrella Cover Foster Surfside

Fiberbuilt 8' Umbrella Cover Foster Metallic

Fiberbuilt 8' Umbrella Cover Gavin Mist

Fiberbuilt 8' Umbrella Cover Shore Linen

Fiberbuilt 8' Umbrella Cover Dorsett Cherry

Fiberbuilt 8' Umbrella Cover Davidson Redwood

Fiberbuilt 8' Umbrella Cover Passage Poppy

Fiberbuilt 8' Umbrella Cover Peyton Granite

Fiberbuilt 8' Umbrella Cover Milano Char

Fiberbuilt 8' Umbrella Cover Seville Seaside

Fiberbuilt 8' Umbrella Cover Milano Cobalt

Fiberbuilt 8' Umbrella Cover Frequency Ash

Fiberbuilt 8' Umbrella Cover Frequency Parchment

Fiberbuilt 8' Umbrella Cover Frequency Sand

Fiberbuilt 8' Umbrella Cover Astoria Sunset

Fiberbuilt 8' Umbrella Cover Astoria Lagoon

Fiberbuilt 8' Umbrella Cover Cultivate Breeze

Fiberbuilt 8' Umbrella Cover Gateway Indigo

Fiberbuilt 8' Umbrella Cover Gateway Fuse

Fiberbuilt 8' Umbrella Cover Canvas Cyan

Fiberbuilt 8' Umbrella Cover Cultivate Stone

Fiberbuilt 8' Umbrella Cover Brannon Redwood

Fiberbuilt 8' Umbrella Cover Brannon Whisper

Fiberbuilt 8' Umbrella Cover Mason Forest Green

Fiberbuilt 8' Umbrella Cover Maxim Heather Beige

Fiberbuilt 8' Umbrella Cover Regency Sand

Fiberbuilt 8' Umbrella Cover Canvas Chestnut

Fiberbuilt 8' Umbrella Cover Canvas White

Fiberbuilt 8' Umbrella Cover Lido Indigo

Fiberbuilt 8' Umbrella Cover Echo Ash

Fiberbuilt 8' Umbrella Cover Echo Dune

Fiberbuilt 8' Umbrella Cover Beaufort Yellow/White - Marine Grade

Fiberbuilt 8' Umbrella Cover Beaufort Black/White - Marine Grade

Fiberbuilt 8' Umbrella Cover Stanton Lagoon

Fiberbuilt 8' Umbrella Cover Stanton Greystone

Fiberbuilt 8' Umbrella Cover Cabana Regatta

Fiberbuilt 8' Umbrella Cover Cabana Classic

Fiberbuilt 8' Umbrella Cover Shore Regatta

Fiberbuilt 8' Umbrella Cover Shore Classic

Fiberbuilt 8' Umbrella Cover Cove Pebble

Fiberbuilt 8' Umbrella Cover Gateway Mist

Fiberbuilt 8' Umbrella Cover Token Surfside

Fiberbuilt 8' Umbrella Cover Integrated Pewter

Fiberbuilt 8' Umbrella Cover Integrated Steel

Fiberbuilt 8' Umbrella Cover Adaptation Stone

Fiberbuilt 8' Umbrella Cover Adaptation Indigo

Fiberbuilt 8' Umbrella Cover Bessemer 1000BA

Fiberbuilt 8' Umbrella Cover Rib Natural

Fiberbuilt 8' Umbrella Cover Rib Taupe/Ant Beige

Fiberbuilt 8' Umbrella Cover Carousel Confetti

Fiberbuilt 8' Umbrella Cover Dandelion - Marine Grade

Fiberbuilt 8' Umbrella Cover Dupione Sand

Fiberbuilt 8' Umbrella Cover Dupione Laurel

Fiberbuilt 8' Umbrella Cover Dupione Galaxy

Fiberbuilt 8' Umbrella Cover Dupione Walnut

Fiberbuilt 8' Umbrella Cover Dupione Deep Sea

Fiberbuilt 8' Umbrella Cover Dupione Peridot

Fiberbuilt 8' Umbrella Cover Dimone Sequoia

Fiberbuilt 8' Umbrella Cover Dupione Paradise

Fiberbuilt 8' Umbrella Cover Dupione Crimson

Fiberbuilt 8' Umbrella Cover Dupione Papaya

Fiberbuilt 8' Umbrella Cover Dupione Stone

Fiberbuilt 8' Umbrella Cover Dupione Latte

Fiberbuilt 8' Umbrella Cover Dupione Celeste

Fiberbuilt 8' Umbrella Cover Dupione Aloe

Fiberbuilt 8' Umbrella Cover Echo Midnight

Fiberbuilt 8' Umbrella Cover Echo Sangria

Fiberbuilt 8' Umbrella Cover Linen Champagne

Fiberbuilt 8' Umbrella Cover Linen Natural

Fiberbuilt 8' Umbrella Cover Linen Straw

Fiberbuilt 8' Umbrella Cover Linen Pampas

Fiberbuilt 8' Umbrella Cover Linen Sesame

Fiberbuilt 8' Umbrella Cover Linen Stone

Fiberbuilt 8' Umbrella Cover Linen Antique Beige

Fiberbuilt 8' Umbrella Cover Linen Silver

Fiberbuilt 8' Umbrella Cover Linen Canvas

Fiberbuilt 8' Umbrella Cover Berenson Tuxedo

Fiberbuilt 8' Umbrella Cover Antique Beige - Marine Grade

Fiberbuilt 8' Umbrella Cover Black - Marine Grade

Fiberbuilt 8' Umbrella Cover Pacifc Blue - Marine Grade

Fiberbuilt 8' Umbrella Cover Forest Green - Marine Grade

Fiberbuilt 8' Umbrella Cover China Red - Marine Grade

Fiberbuilt 8' Umbrella Cover Natural White - Marine Grade

Fiberbuilt 8' Umbrella Cover Burgundy - Marine Grade

Fiberbuilt 8' Umbrella Cover Cardinal Red - Marine Grade

Fiberbuilt 8' Umbrella Cover Classic Royal Blue - Marine Grade

Fiberbuilt 8' Umbrella Cover Captains Navy - Marine Grade

Fiberbuilt 8' Umbrella Cover Terra - Marine Grade
1
1
2
3
4
5
6
7
8
9
10
11
12
13
14
15
16
17
18
19
20
21
22
23
24
25
26
27
28
29
30
31
32
33
34
35
36
37
38
39
40
41
42
43
44
45
46
47
48
49
50
51
PRODUCT INFO
Product Specifications
Pole Material
Aluminum Pole
Construction Quality
Commercial
Pole
One piece, 1 1/2 diameter aluminum, .125 thickness
Product Features
Fiberglass ribs with molded nylon joints, hubs and end tips.
Pole finishes are powder coated. Other finish colors are available for large orders. Consult factory.
All rib, finial and hub colors coordinate with the finish color selected for the pole except for Sahara which has Champagne Bronze ribs, finials and hubs
Single, sewn-in vent and storage ties are standard
Custom top options include the Aruba extra large vent, double vent, valance, alternating panels, trim, banding and logos.
Standard tops are made of marine or furniture grade, solution dyed acrylic.
Pulley & Pin lift is available in place of Push Up & Pin for an upcharge. When ordering change the end of the model number from PU to PP.
MORE DOCUMENTS
ADDITIONAL FEATURES
This umbrella features a 1 1/2 diameter, one piece pole that allows for both in-table and freestanding use. To accompany a wide range of dining, lounge and chaise seating, the .125 thickness aluminum pole comes in seven finishes.
MORE UMBRELLAS & SHADES
Review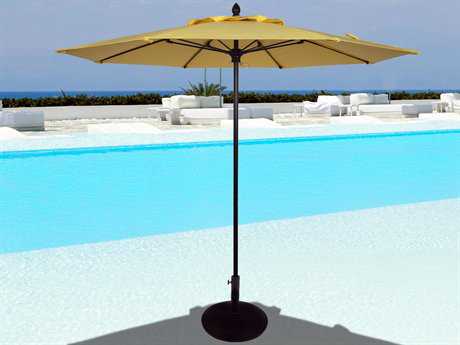 Fiberbuilt Lucaya 8' Octagon Aluminum Umbrella